News
Your Current Location: Home >> The advantage Of Digital Advertising Screen
The advantage Of Digital Advertising Screen
Release date: 2023-03-29 / Views: 70
As an entrepreneur, you may ask, 'what is the future?' The most common answer you will get is 'it's digital.'
Technology has advanced. Besides, the pandemic changed our life completely. Likewise, businesses found innovative ways to adapt. One such way is the digital Advertising system.
The days of searching for a flex vendor are gone. Now, marketing, advertising, and content are predominantly digital. So, irrespective of your business scale, it is vital to know how digital advertising signage helps.
This guide explains every aspect of advertising screens in simple words. Furthermore, you can use this system in your business even today! So, without any delay, let's delve into this modern technology.
The ABC of Digital advertising screens
In simple words, digital advertising display is a combination of two well-known terms. The first term is 'digital,' and the second one is 'sign.'
Now, things are beginning to clear out, right? A digital advertising display system is nothing but the use of electronic signs to display content.
Many technologies drive a digital advertising screen system:
LCD screens

3D Projection

LED screens

E-paper
The prime goal of a digital signage system is to advertise, inform, and promote a brand or business.
Also, governments use these systems to display important content for the public.
Where Are Digital Signage Screens Prevalent?
A simple example of a successful digital signage screen is 'Times Square.' People view many ads, information, and significant events at Times Square.
Moving on, let us know where digital advertising screens find tremendous application.
Public Spaces
Yes, Times Square is a public space. Lots of people commute through that area daily. Yet, you can find many other examples in your surrounding area.
Mostly, digital advertising signage in public spaces finds extensive use. On such screens, you can see ads, important news, stock exchange prices, fuel prices, and so on.
Restaurants and Hotels
Let's talk about business. Most restaurants use a digital advertising signage screen to display menu and promotional offers.
You can view such digital screens indoors as well as outdoors. But, of course, this utility depends on the budget of a particular restaurant owner.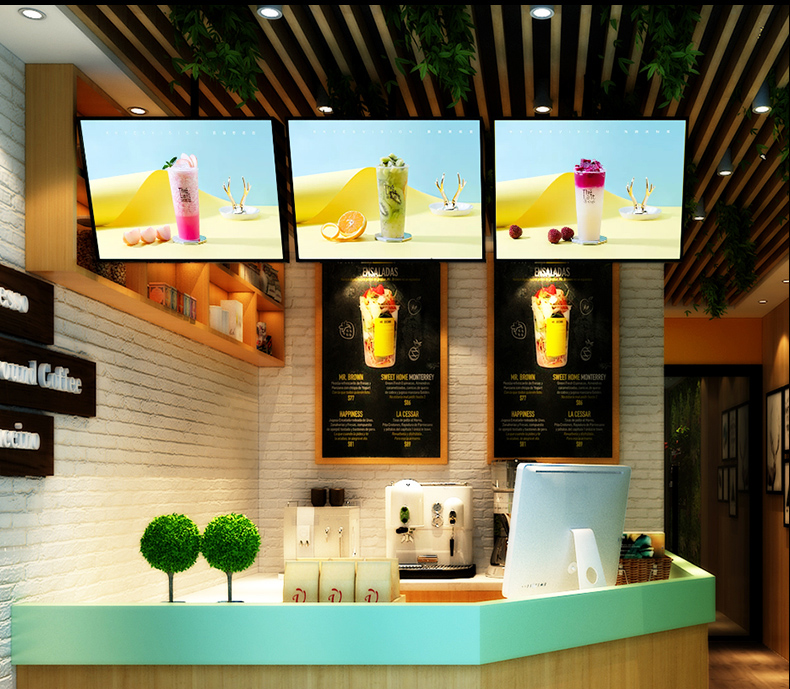 Malls
Shopping malls started using digital screens effectively. Whenever you enter a mall, you can see screens displaying valuable information.
These days, interactive touch screen modules find primary use in shopping malls. Shoppers often enjoy such interactive technology.
Transport Stations
Railway stations and bus stops are becoming vital locations for digital screens. Civilians can read crucial information about routes, schedules, etc.
In addition, electronic screens on transport stations display some relevant ads too.
Education Sector
Schools, colleges, and universities are becoming hi-tech. Hence, the use of digital advertising signage systems is increasing gradually.
These screens display content like notices, canteen menus, university news, and so on.
Some universities are implementing interactive signage systems to assist young students.
What Are the Benefits of Digital advertising Signage?
Depending on the final goal, the use of a digital signage system can vary. So, the benefits are, indeed, limitless.
Still, it is helpful to segregate the advantages as per different sectors. Moreover, you can know how a digital signage system proves useful in your domain.
For Businesses
It's time to become smart. So, it's time to go digital. Here's how digital advertising signage can help you.
Advertising and Marketing
Every business, big or small, needs marketing to let people know the ongoing offers and schemes. In addition, it helps them rope in potential customers.
Digital advertising signs are attractive, interactive, and modern. You can catch the attention of most customers with dynamic electronic boards.
Also, you can change the content as per requirement. Isn't this handy?
Hence, businesses can ditch the traditional static ad banners. Instead, Digital screens can become a one-time investment for marketing.
Brand Promotion and Awareness
Sustainability is crucial in any business. However, with many competitors, you need to keep reminding people of your existence.
So, you can use digital signs at strategic locations. Consequently, people can interact and stay in the loop of your company's current happenings.
For Hospitality Services
Any hotel or restaurant can save significant money after investing in a digital advertising screens.
Constant Update of Content
The hospitality sector is flexible and dynamic. For example, you can have a seasonal offer or special dish for customers.
It becomes tedious to inform every customer verbally. Also, printing menu cards periodically isn't a feasible option.
In such cases, a digital menu, even on a plain wall, helps tremendously. Also, customers love to interact with a virtual menu.
High Customer Engagement
Hospitality is all about serving customers. If you have an interactive digital signage screen, customers can help themselves.
People like to get things done quickly. Some tasks include navigation, ordering food, or calling customer service.
Eventually, this tool gives rise to customer satisfaction.
For Education
Digital advertising signage isn't limited to commercial applications. Additionally, this practical tool has the potential to enhance the academic sector.
High Interaction
People love to interact. These days, interaction is primarily electronic.
Students can use this tool to get vital academic and extra-curricular information. In this case, electronic screens or e-papers are good examples.
Furthermore, this tool reduces the management burden. Also, it keeps almost every student aware of the current happenings.
Long-Term Cost Saving
Digital advertising signage screens have a high initial investment. But, they often serve well for long-term duration.
In an education set up like a school or college, management can save timely expenses on boards, banners, etc.
For Analytics
There is special software that generates reports of digital signage data. For instance, you can analyze customer behaviors and sales predictions with such software.
Depending on the results, you can change the content or create a different video altogether.
End notes
Digital advertising signage isn't limited to the above sectors. This tool has vast potential. The benefits of this system increase as you imagine its inclusion in various domains.
As the world evolves, businesses shift to innovative ways for survival. Digital signs have different modes depending on the technology. So, you can always choose a suitable method based on the budget.
All in all, the benefits of digital advertising screen systems are plenty. But, moreover, the trick is to deploy this tool in an appropriate way.